Some Things, 2016-ongoing, 46"x90"x3", various found materials/ objects
Drifter History, ODU installation, 2019
Voyage of Life
I've collected objects from the banks of rivers for as long as I can remember, but only in the last five years have I noticed the abundance of polyurethane and polystyrene foams, poetically eroded to look like ancient river rock. I immediately began collecting these oddities and arranged them in the same format as any other geologic specimens. This video is a hypothetical life cycle of a foam rock specimen. The title is a reference to a series of four allegorical paintings by Thomas Cole. They depict a male figure accompanied by a guardian angel on a journey downriver and through sublime landscapes. I think Hudson River School paintings generally helped create some of our flawed ideas of landscape, forming our nature / culture divide. As an object, the foam rock does a really great job of breaking down this divide, showing the truly messy spectrum we occupy.
Untitled (my arm), 2017, 4"x5"x26", resin, pigment
Untitled (dinosaur chain), 2019, 5"x3"x120", cast bronze
Spirit Rock, 2016, granite boulder, paint, 4.5' x 5.5' x 10'
Spirit Rocks are a common public forum at many universities and represent a sort of violence against geology. In order to disrupt the cycle of messages painted on the rock throughout the semester, I decided to strip paint from the Spirit Rock at University of Mary Washington, where I'm an adjunct instructor. The project gives a voice the strange materiality of the rock, a true geologic oddity of the anthropocene.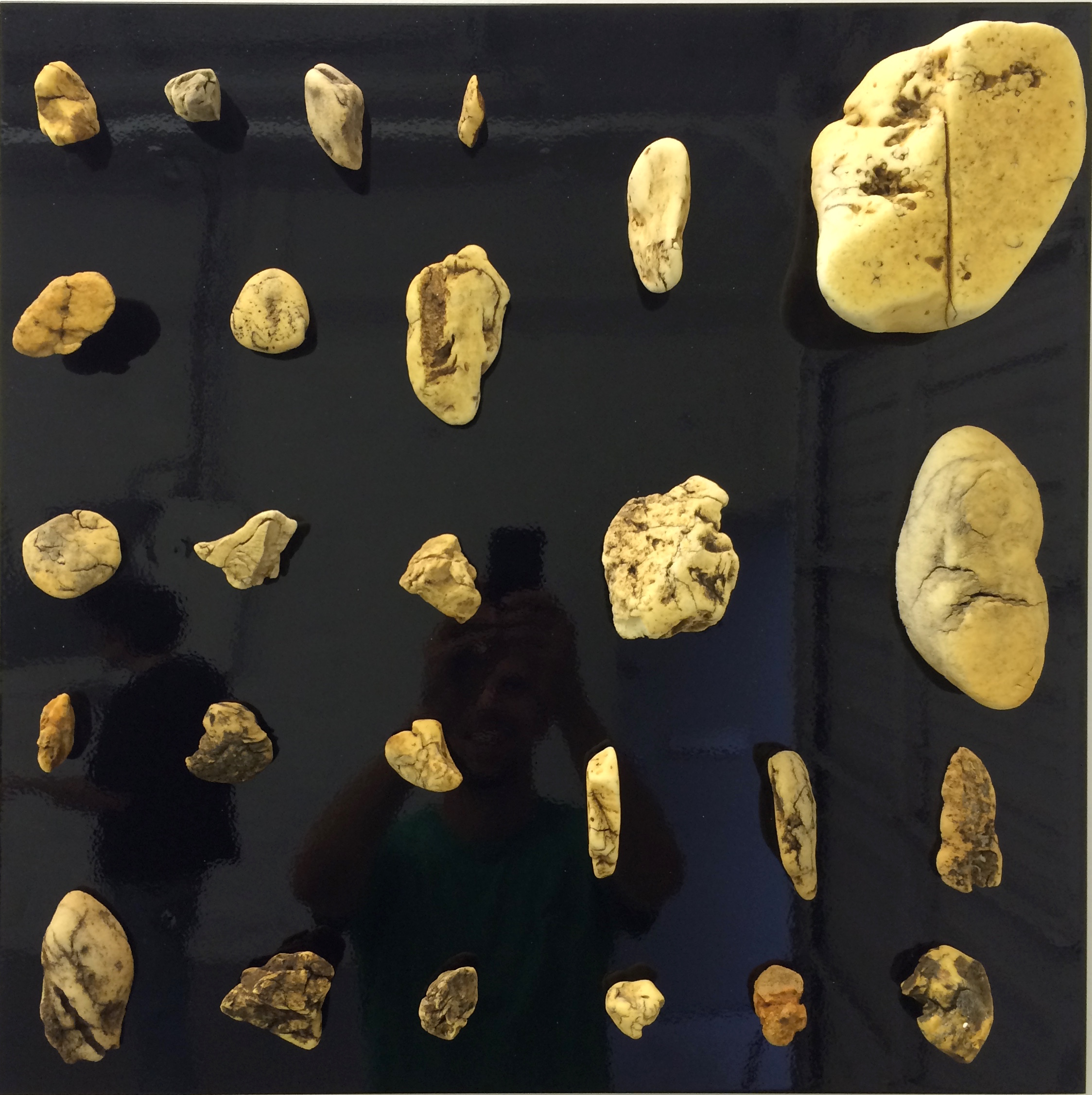 Great Stuff, 2016, 24"x24"X5", polystyrene foam eroded by various rivers, magnets, powder coated steel plate, oak backing
Goblin Shaman, 2016, 24"x24"x5", sand blasted can and lens, burnt wood, chromed steel, magnets, cast lead coyote teeth, small clay balls pressed by young child cast in resin and aluminum, powder coated steel plate, oak backing
Drifter History (book detail)
Drifter History (book detail)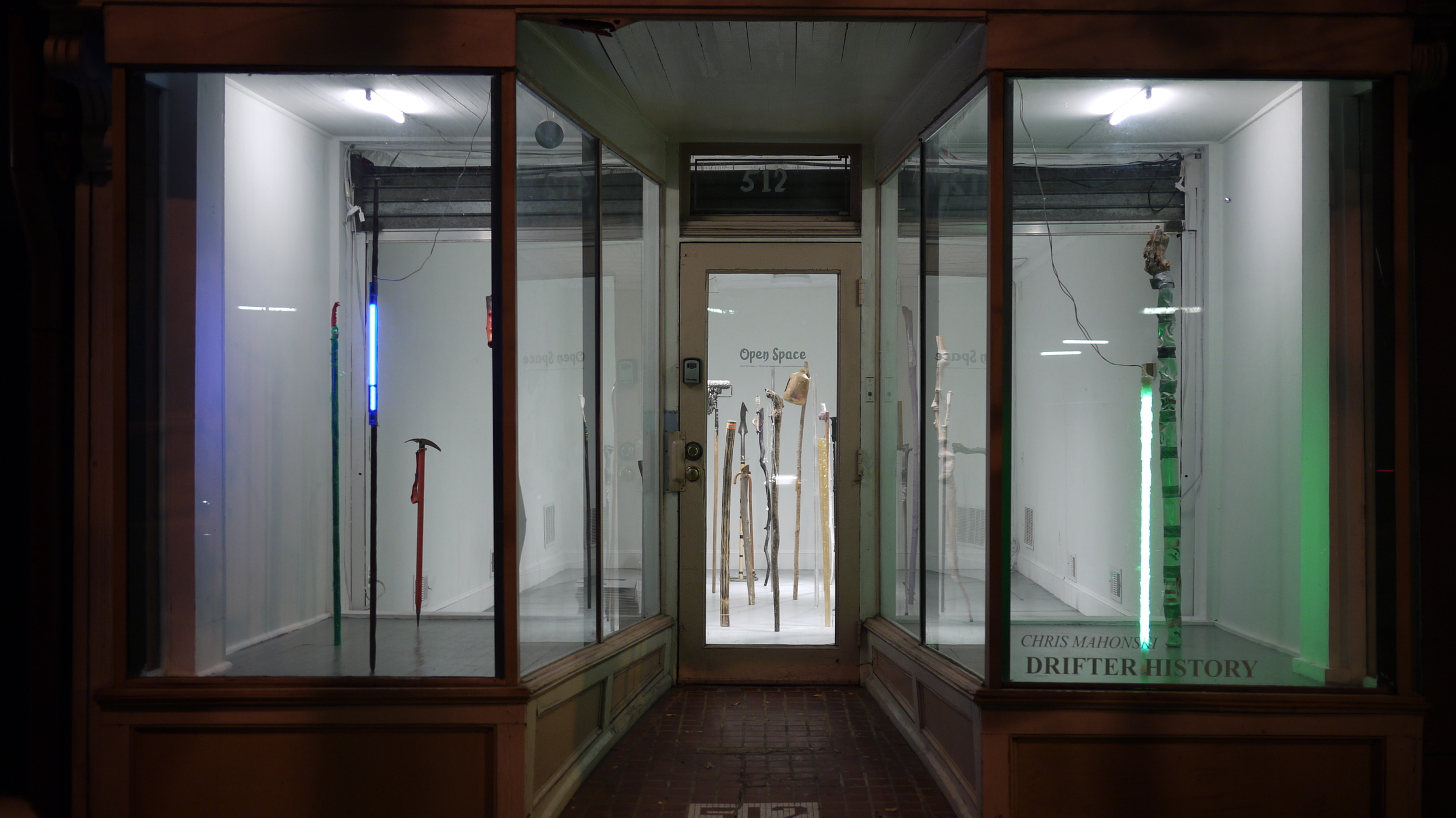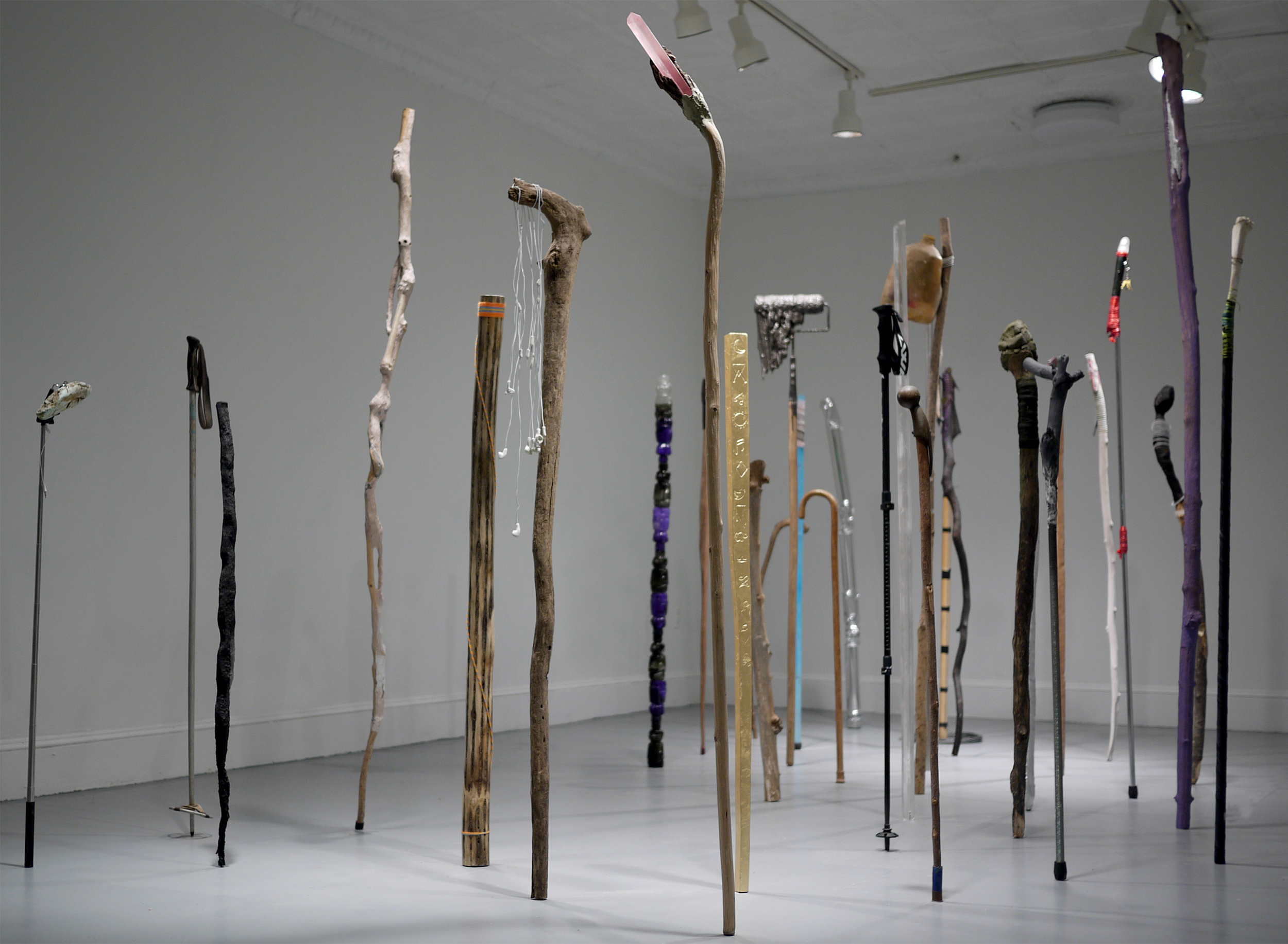 Drifter History, 2015, dimensions variable, found and fabricated walking sticks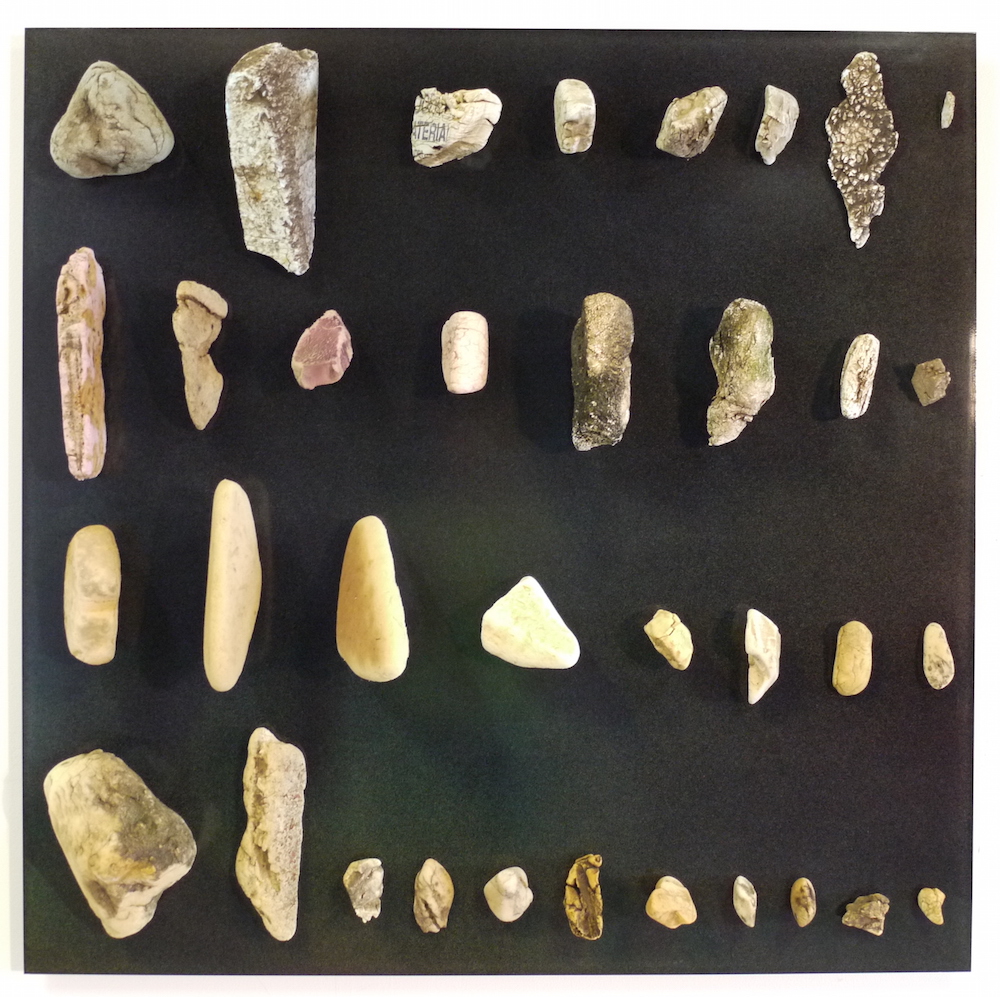 New Geology, 2015, 48"x48"x7", eroded insulation foam found in the East River, steel plate with metal flake powder coat, rare earth magnets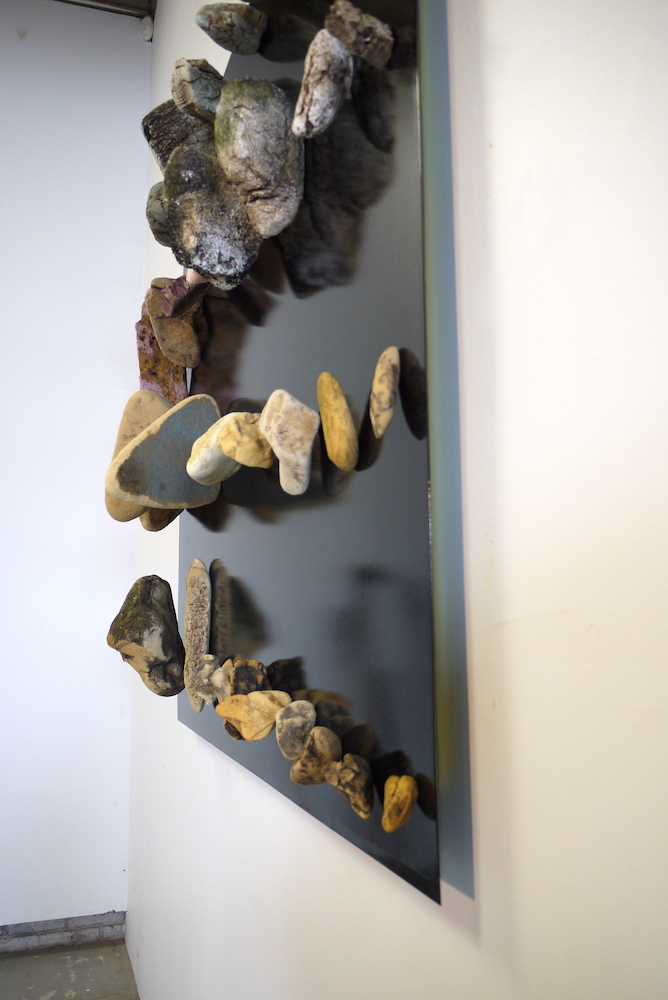 New Geology, 2015, 48"x48"x7", eroded insulation foam found in the East River, steel plate with metal flake powder coat, rare earth magnets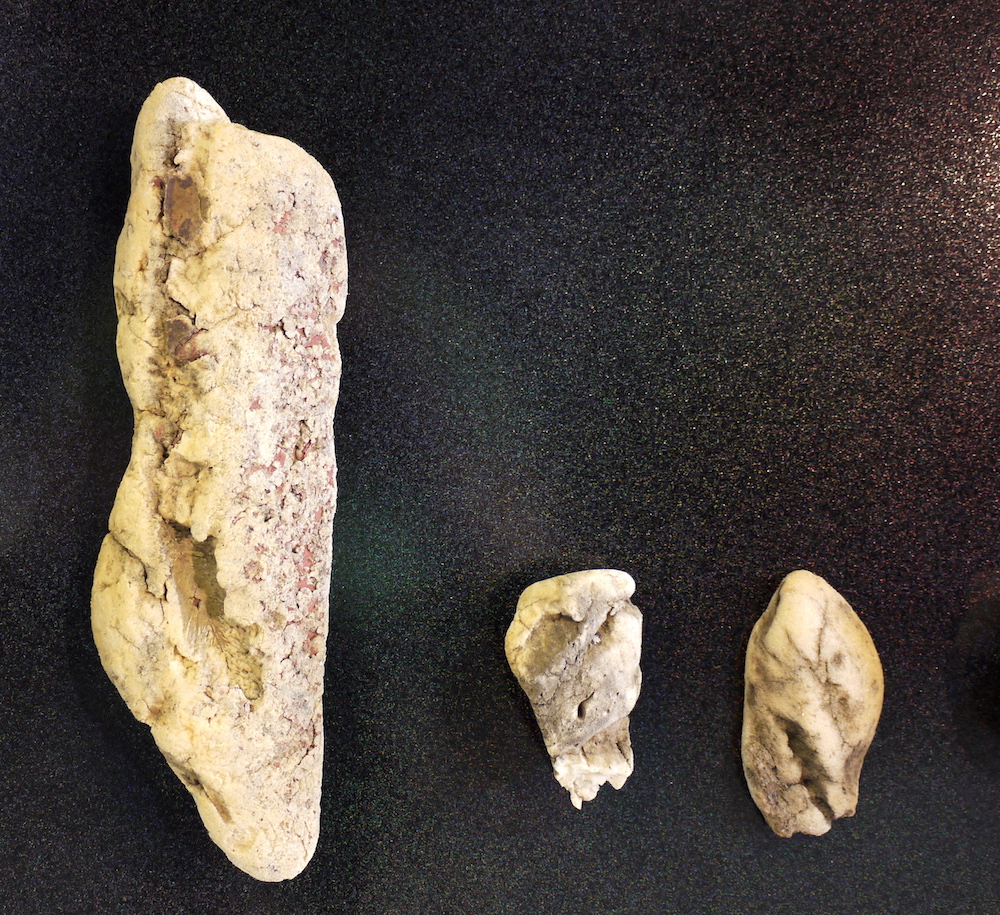 New Geology, 2015, 48"x48"x7", eroded insulation foam found in the East River, steel plate with metal flake powder coat, rare earth magnets
On the Beach, 2015, 34"x34"x48", plastic, resin, graphite, clay, sand, gold, aluminum, copper, chrome, nickel, glass, fossil gastropods, fossil shark teeth, foam, silica, wristwatch packaging, Motorola Razr, steel folding table
On the Beach, 2015, 34"x34"x48", plastic, resin, graphite, clay, sand, gold, aluminum, copper, chrome, nickel, glass, fossil gastropods, fossil shark teeth, foam, silica, wristwatch packaging, Motorola Razr, steel folding table
On the Beach, 2015, 34"x34"x48", plastic, resin, graphite, clay, sand, gold, aluminum, copper, chrome, nickel, glass, fossil gastropods, fossil shark teeth, foam, silica, wristwatch packaging, Motorola Razr, steel folding table
On the Beach, 2015, 34"x34"x48", plastic, resin, graphite, clay, sand, gold, aluminum, copper, chrome, nickel, glass, fossil gastropods, fossil shark teeth, foam, silica, wristwatch packaging, Motorola Razr, steel folding table
On the Beach, 2015, 34"x34"x48", plastic, resin, graphite, clay, sand, gold, aluminum, copper, chrome, nickel, glass, fossil gastropods, fossil shark teeth, foam, silica, wristwatch packaging, Motorola Razr, steel folding table
On the Beach, 2015, 34"x34"x48", plastic, resin, graphite, clay, sand, gold, aluminum, copper, chrome, nickel, glass, fossil gastropods, fossil shark teeth, foam, silica, wristwatch packaging, Motorola Razr, steel folding table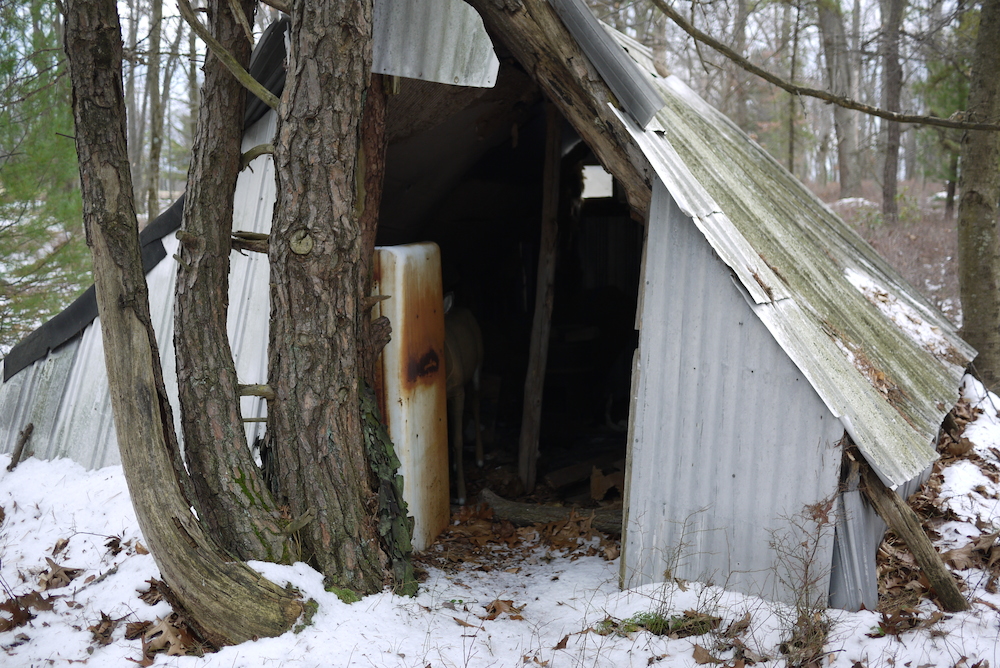 Shack, Found During Mushroom Trip, 2013, 20"x13", digital print
Bondo Rainbow, 2014, 22"x18"x2", bondo, aluminum, hardware
Bondo Rainbow, 2014, 22"x18"x2", bondo, aluminum, hardware
Spurious Brood, 2014, dimensions variable, 200 Timex Ironman wristwatches installed in several groves of trees at Socrates Sculpture Park, watch alarms are synchronized to call and respond creating a digital cicada chorus several times throughout the day, this project was made possible by support from Timex Ironman and Socrates Sculpture Park
The Gut, 2014, 21"x22"x38", chromed folding chair, Forton MG, graphite, color pencil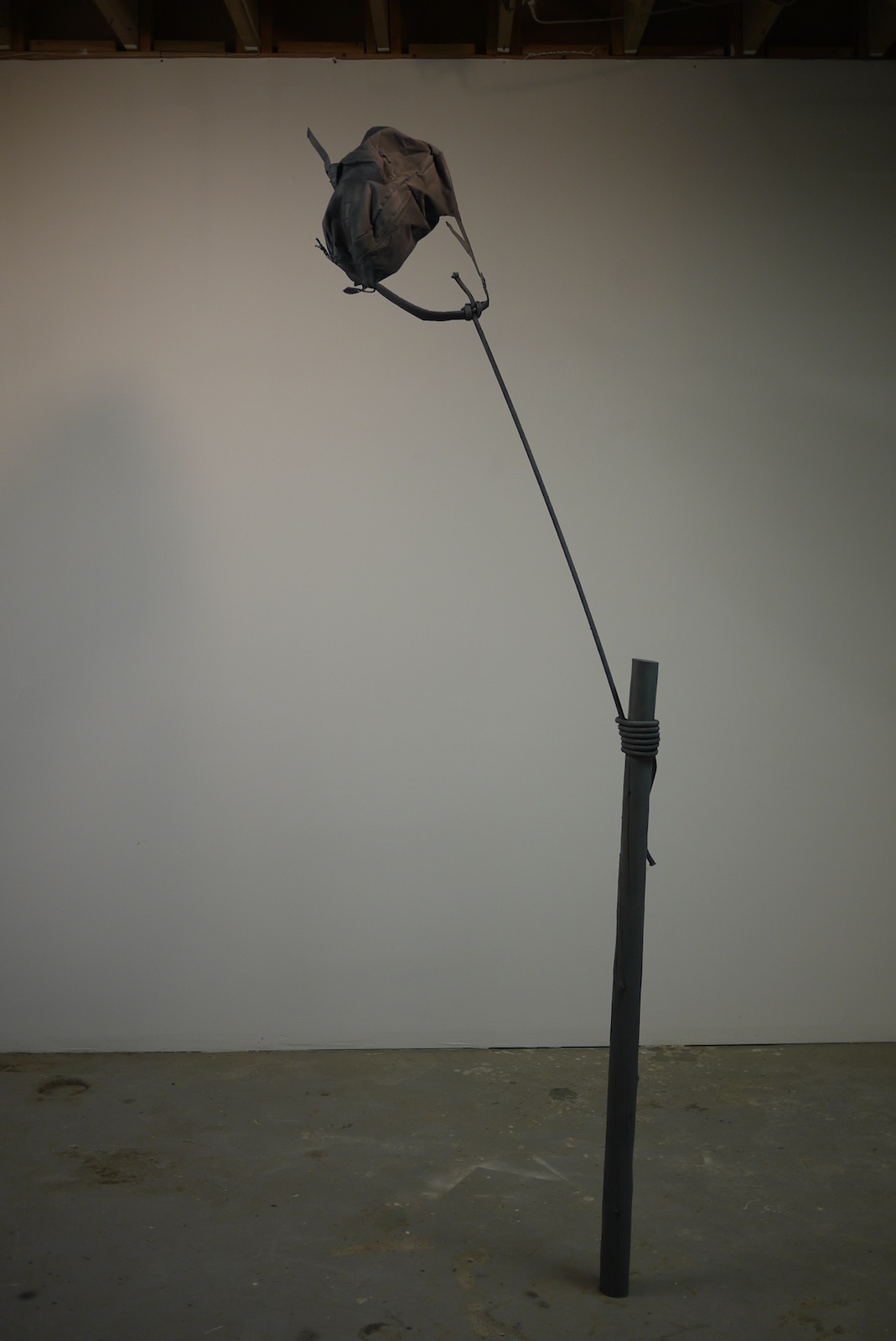 Time Alone, 2014, 106"x22"x4'' , wood, steel, backpack, rope, paint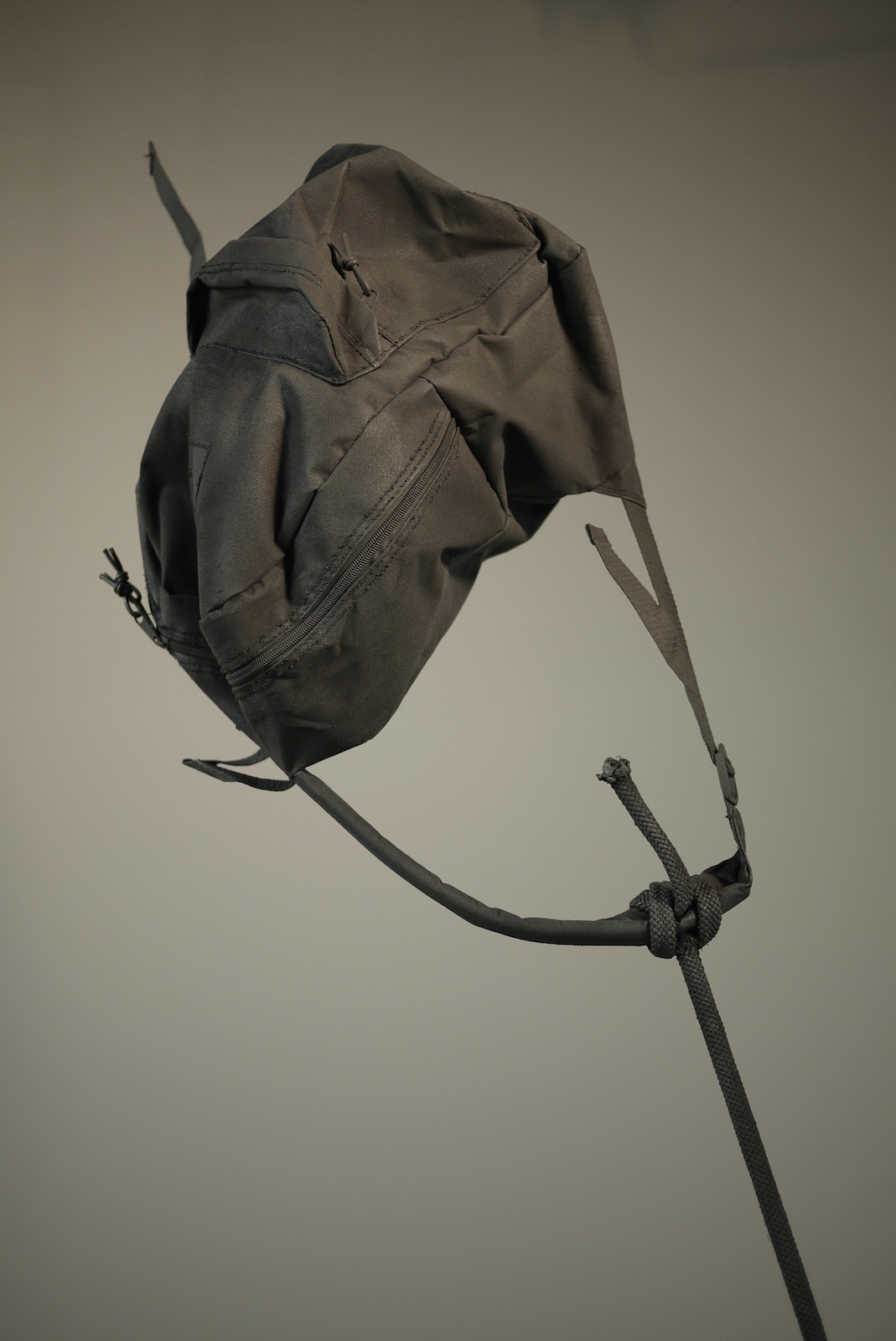 Time Alone, 2014, 106"x22"x4'' , wood, steel, backpack, rope, paint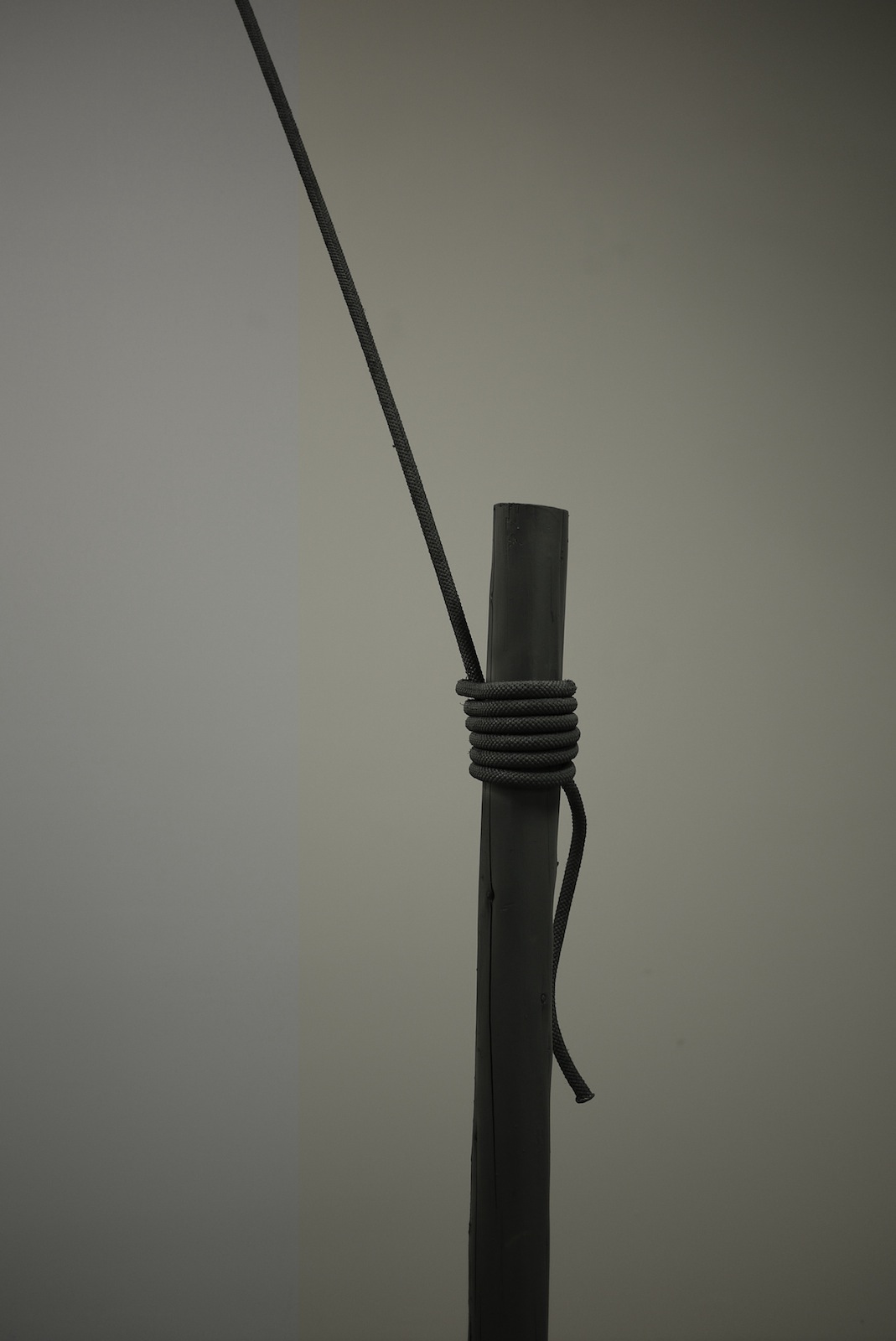 Time Alone, 2014, 106"x22"x4'' , wood, steel, backpack, rope, paint
Old stump watches over my home town, 2013, 20"x13" digital print
It's not worth going on without a body, 2014,60"x20"x23, chrome wire shelf, bondo, silver leaf, magic sculpt, wire, paint
It's not worth going on without a body, 2014,60"x20"x23, chrome wire shelf, bondo, silver leaf, magic sculpt, wire, paint
It's not worth going on without a body, 2014,60"x20"x23, chrome wire shelf, bondo, silver leaf, magic sculpt, wire, paint
Orange Boogie Board, 2013, 75"x22"x4", boogie board, CNC cut text from Jane Roberts' The Seth Material, antler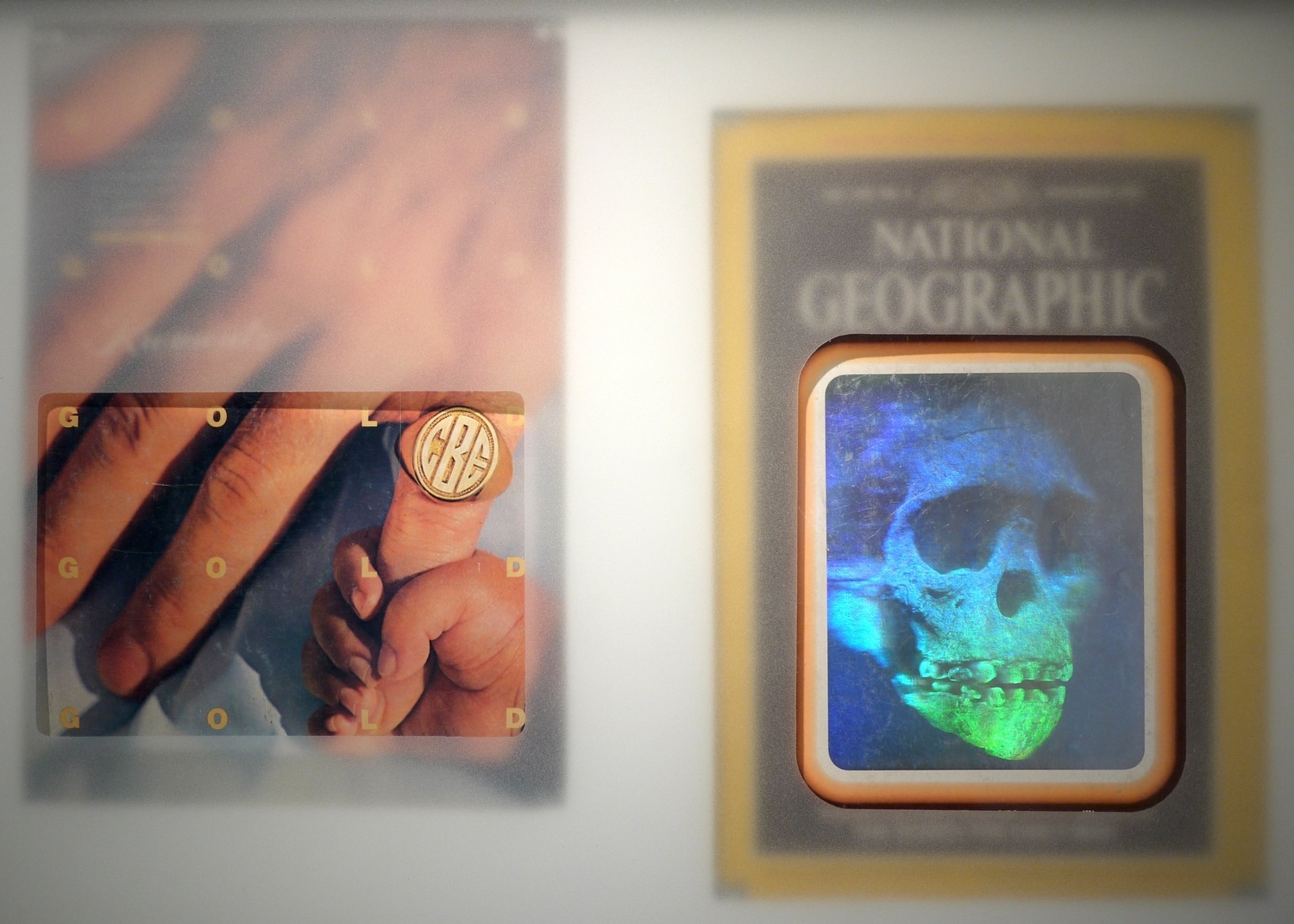 November 1985, 2014, 15"x20", two November 1985 issues of National Geographic, wood, frame, frosted glass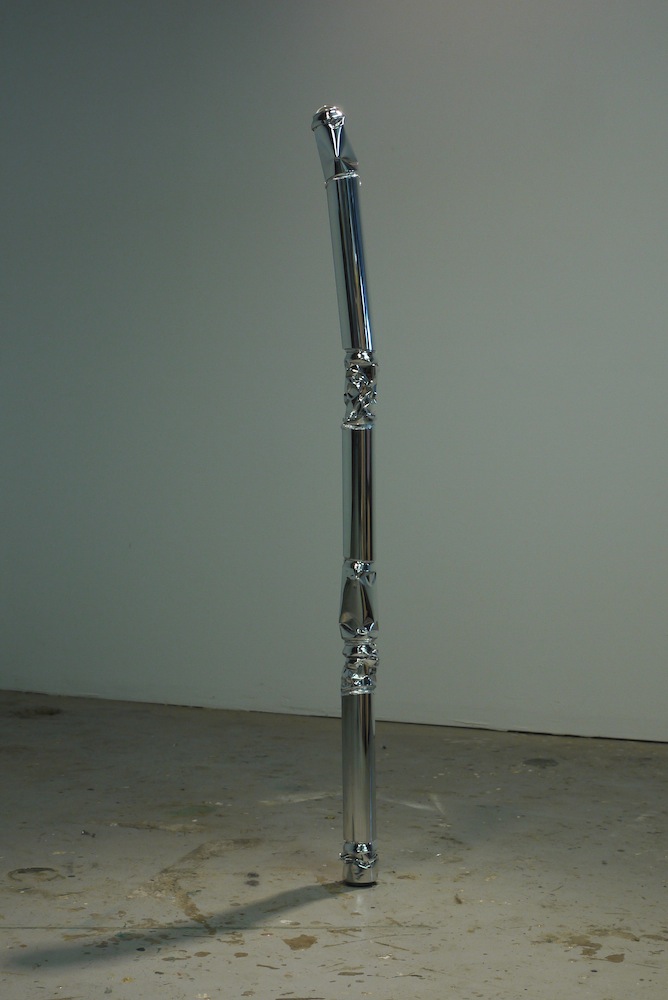 Wizard's Staff, 2013, 3"x3"x49", high-­‐polished Budweiser cans, high-­‐polished aluminum pipe, steel, Bondo, silver leaf, felt, lens, iguana skull fragment
Wizard's Staff, 2013, 3"x3"x49", high-­‐polished Budweiser cans, high-­‐polished aluminum pipe, steel, Bondo, silver leaf, felt, lens, iguana skull fragment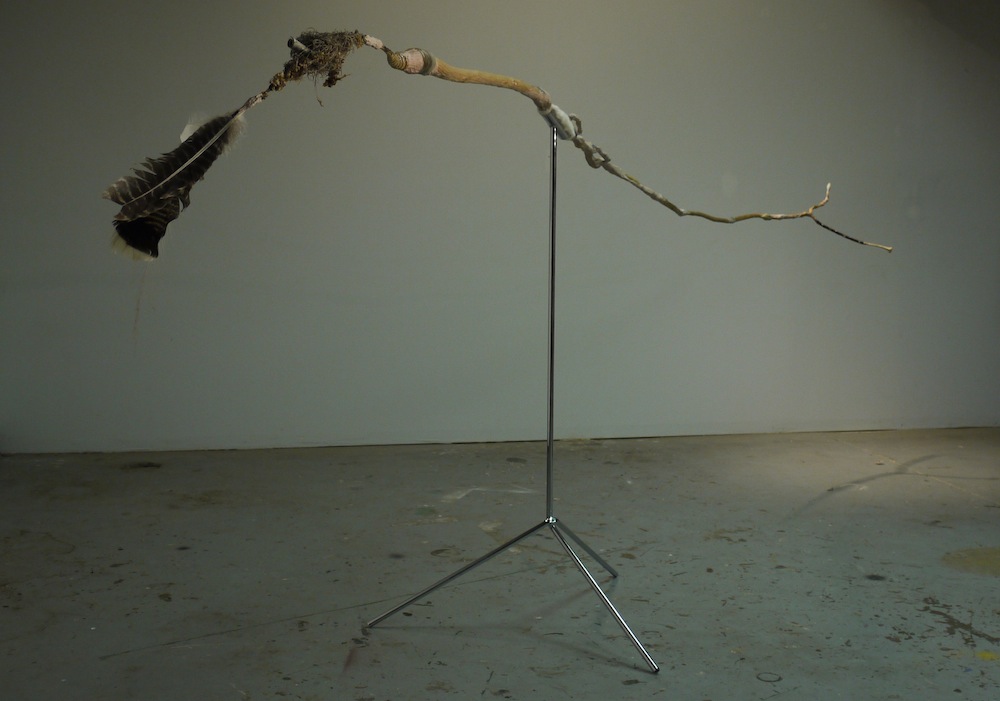 The Dollar Bill Trick, 2012, 3'X4.5'X15', sticks, Bondo, wax, steel, granite drill core, moss, dollar bill, armadillo tail, feathers, bones, teeth, all collected roadside while cycling from California to Florida, chromed steel stand with felt pad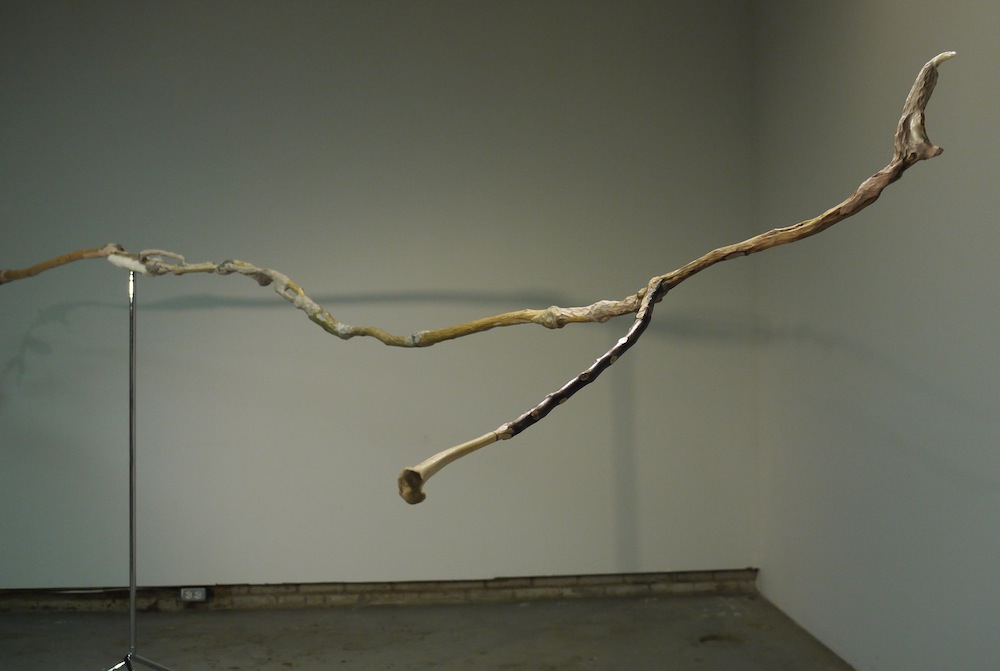 The Dollar Bill Trick, 2012, 3'X4.5'X15', sticks, Bondo, wax, steel, granite drill core, moss, dollar bill, armadillo tail, feathers, bones, teeth, all collected roadside while cycling from California to Florida, chromed steel stand with felt pad
The Dollar Bill Trick, 2012, 3'X4.5'X15', sticks, Bondo, wax, steel, granite drill core, moss, dollar bill, armadillo tail, feathers, bones, teeth, all collected roadside while cycling from California to Florida, chromed steel stand with felt pad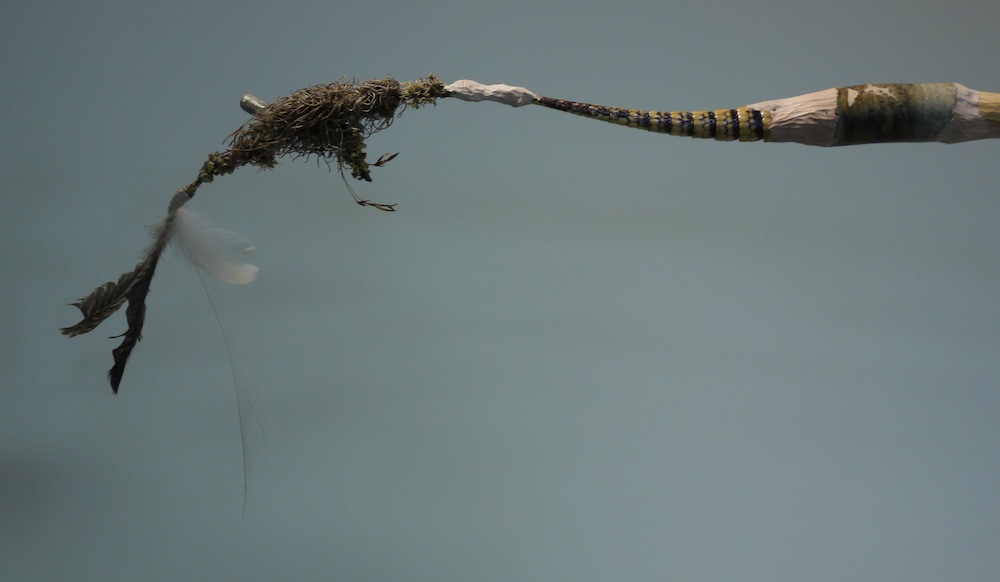 The Dollar Bill Trick, 2012, 3'X4.5'X15', sticks, Bondo, wax, steel, granite drill core, moss, dollar bill, armadillo tail, feathers, bones, teeth, all collected roadside while cycling from California to Florida, chromed steel stand with felt pad
Realistic Weather, solo show, ADA Gallery, 2010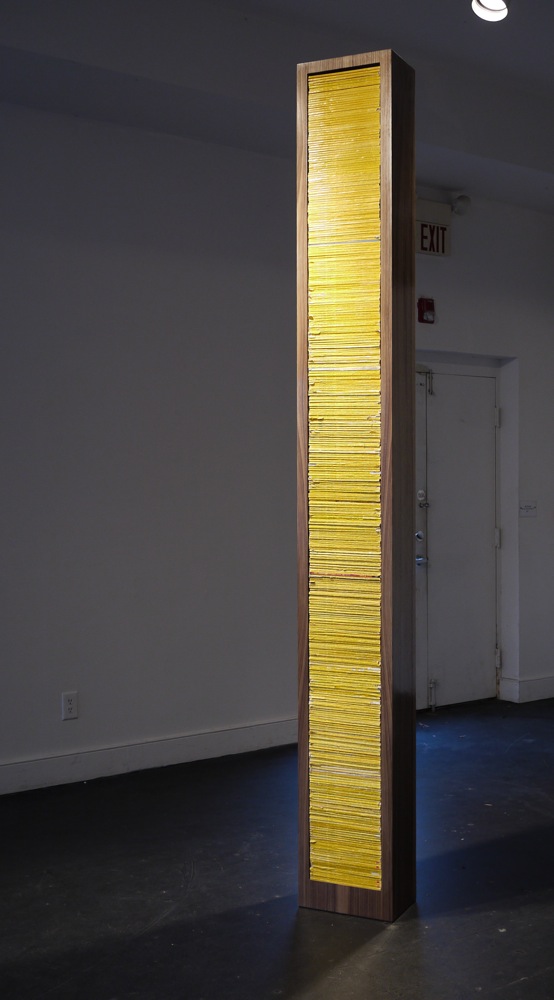 Saturn Return, 2010, 10"x13"x9', OSB, hardware, walnut, 30 years of National Geographic Magazine, acrylic clear coat, wax
Saturn Return, 2010, 10"x13"x9', OSB, hardware, walnut, 30 years of National Geographic Magazine, acrylic clear coat, wax
Horse With No Name, 2010, 3'X4"x8', restored 1970 Johnson Skee Horse, fabricated seat and windshield, color pencil, wax, hardware with patina, digital projection of a photograph of the sun behind clouds
Horse With No Name, 2010, 3'X4"x8', restored 1970 Johnson Skee Horse, fabricated seat and windshield, color pencil, wax, hardware with patina, digital projection of a photograph of the sun behind clouds
Horse With No Name, 2010, 3'X4"x8', restored 1970 Johnson Skee Horse, fabricated seat and windshield, color pencil, wax, hardware with patina, digital projection of a photograph of the sun behind clouds
Lungs, 2010, dimensions variable, high polished beer cans, projector lenses
Weather Radio, 2010, 18"X18"X5', plywood, walnut, steel, weather radio components, acrylic clear coat, wax, plays various manipulated VLF (very low frequency) field recordings
Endless Bummer, 2009, 4'X5'X8.5', cast concrete replica of a jersey barrier, cement dyed and stained, hand-sewn quilt made with Google Earth screen captures of the surface of water printed on cotton, Subaru headrest with monitor, electronics, stainless steel, paint, DVD of Endless Summer playing on repeat
Endless Bummer, 2009, 4'X5'X8.5', cast concrete replica of a jersey barrier, cement dyed and stained, hand-sewn quilt made with Google Earth screen captures of the surface of water printed on cotton, Subaru headrest with monitor, electronics, stainless steel, paint, DVD of Endless Summer playing on repeat
Endless Bummer, 2009, 4'X5'X8.5', cast concrete replica of a jersey barrier, cement dyed and stained, hand-sewn quilt made with Google Earth screen captures of the surface of water printed on cotton, Subaru headrest with monitor, electronics, stainless steel, paint, DVD of Endless Summer playing on repeat
The Void, the Coach and the Future, 2009, 20'X23'X8', wrestling mat, charred tree patched with concrete, charred root patched with concrete, gymnasium doors charred on one side, metal halide light with customized hood, three fabricated crosscut saws with vintage handles, coal, steel sheets with metal flake powder-coating, chromed and painted folding chairs, antique carbide miner's headlamps (mounted in the chairs), calcium carbide, acrylic clear coat, iridescent pigment, color pencil
The Void, the Coach and the Future, 2009, 20'X23'X8', wrestling mat, charred tree patched with concrete, charred root patched with concrete, gymnasium doors charred on one side, metal halide light with customized hood, three fabricated crosscut saws with vintage handles, coal, steel sheets with metal flake powder-coating, chromed and painted folding chairs, antique carbide miner's headlamps (mounted in the chairs), calcium carbide, acrylic clear coat, iridescent pigment, color pencil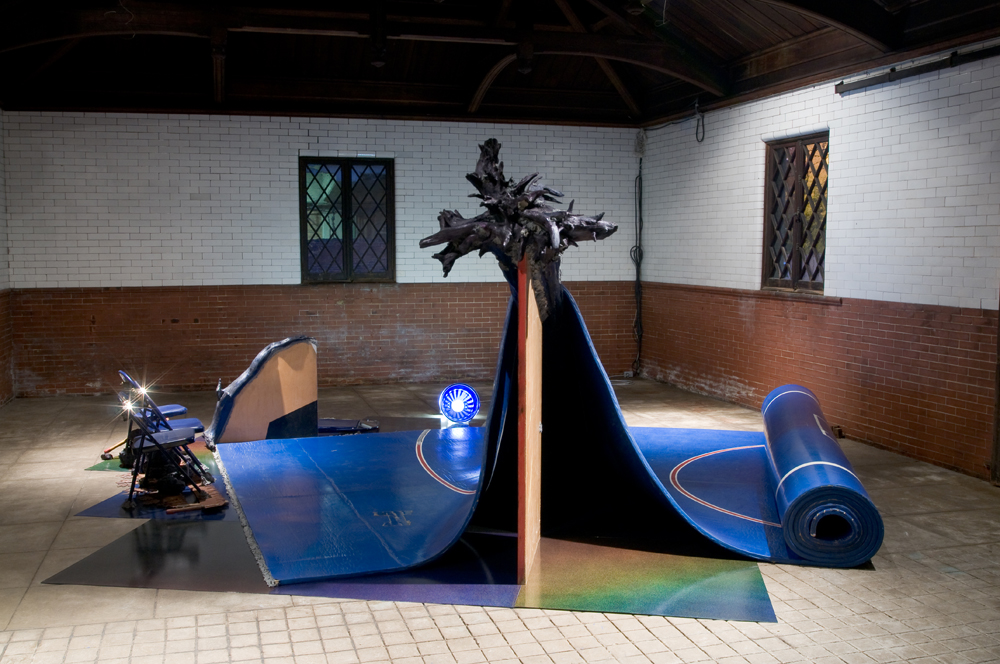 The Void, the Coach and the Future, 2009, 20'X23'X8', wrestling mat, charred tree patched with concrete, charred root patched with concrete, gymnasium doors charred on one side, metal halide light with customized hood, three fabricated crosscut saws with vintage handles, coal, steel sheets with metal flake powder-coating, chromed and painted folding chairs, antique carbide miner's headlamps (mounted in the chairs), calcium carbide, acrylic clear coat, iridescent pigment, color pencil
The Void, the Coach and the Future, 2009, 20'X23'X8', wrestling mat, charred tree patched with concrete, charred root patched with concrete, gymnasium doors charred on one side, metal halide light with customized hood, three fabricated crosscut saws with vintage handles, coal, steel sheets with metal flake powder-coating, chromed and painted folding chairs, antique carbide miner's headlamps (mounted in the chairs), calcium carbide, acrylic clear coat, iridescent pigment, color pencil
Doomsday Vault, 2008, dimensions variable, site-specific installation in an abandoned bank vault, artificial snow, fluorescent lights
The Void, the Coach and the Future, 2009, 20'X23'X8', wrestling mat, charred tree patched with concrete, charred root patched with concrete, gymnasium doors charred on one side, metal halide light with customized hood, three fabricated crosscut saws with vintage handles, coal, steel sheets with metal flake powder-coating, chromed and painted folding chairs, antique carbide miner's headlamps (mounted in the chairs), calcium carbide, acrylic clear coat, iridescent pigment, color pencil
Doomsday Vault, 2008, dimensions variable, site-specific installation in an abandoned bank vault, artificial snow, fluorescent lights
The Hippie, 2008, 9'X3'X3', elm tree, color pencil, artificial snow, head lamps